Kocher Ismaning
Münchener Straße 101, Building 38
85737 Ismaning near München
Germany
Phone: +49 89 143 687-0
Fax: +49 89 143 687-99
S.K.H. Bruckmühl
Hermann-Oberth-Str. 2
83052 Bruckmühl
Germany

Phone: +49 8062 60 66
Fax: +49 8062 60 68
How to find us
Come and visit us!
Kocher Gesellschaft für Industrieautomation und Software mbH is located in AGROB Medienpark in Ismaning, at the northwest corner.
Please take a look at our directions.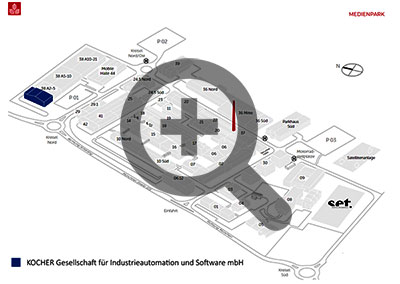 By car
Coming from Ismaning, enter AGROB Medienpark at the northern roundabout, turn left at the end of the road, and follow it around building 38 until you reach the office entrance on the western side. From the direction of Unterföhring/Munich, you can either take the same route or enter AGROB Medienpark at the southern roundabout to follow the internal road that runs parallel to Münchener Straße until you also drive around building 38 and finally reach the office entrance on the west.
There you will find our friendly reception colleagues from Monday to Friday (except holidays) from 08:00 a.m. to 04:00 p.m.
Attention
The entire Medienpark has the address Münchener Str. 101, 85737 Ismaning, so that all companies can be found under the same house number. Therefore, the individual buildings have numbers. The entrance to the Kocher office is on the west side of building 38. You can enter AGROB Medienpark by car via the two roundabouts and a central entry in between. To get to the Kocher office entrance, you have to bypass the site (at the Mobile Halle 44, 38 A10-21 and 38 A5-10 buildings). There is no direct access via Münchener Straße, which runs parallel.
On foot
You can reach Kocher by following a small path from the northern roundabout.